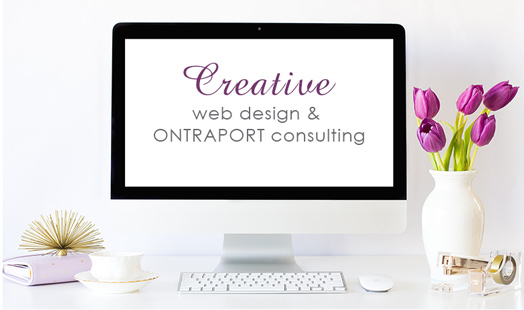 Expand your reach & impact
Frustrated with your marketing? Let's design an ONTRAPORT system for your success.
We work with small business owners, like you. We understand the challenges you're facing getting your business online and working for you. You're stuck with no clients or slow sales, you've got website shame and you're too embarrassed to hand out your business card because your brand doesn't reflect who you are now. You're struggling to find someone to help you who speaks your language, not tech jargon.
That's where we come in. We get all the pieces working together in harmony–your website, your brand and your marketing automation. We define your goals and then we execute the steps to get you there. Your website becomes your best sales tool, focused on capturing prospects and turning them into sales. You don't need to waste your time learning the ins-and-outs of internet marketing.
Focus your energy on what you do best—running your business and making a positive change in the world. Let us help you do that.
You need a guide to help you achieve your big goals through prospecting, planned launching, and developing strategies for repeat business.
Let's structure your marketing to suit the way you work, the way your business works and the way your customers want to interact with you.
End the stress of trying to figure it out yourself.
We specialize in:
WordPress web design for main sites, membership and course websites
Marketing automation with ONTRAPORT
Landing pages and email marketing
Graphic design for branding and layout design for opt-in PDFs
Now, let's begin our journey together.
Since I hired Innerspace Marketing, Julia's helped me earn over $100k in sales from my first course, and we've already developed and a launched a second course, which earns wonderful revenue.
– Lindsey Ellison
From the minute Innerspace Marketing came into my life, I could breathe. Relax.
It's like Julia sees the pictures in my head and makes them visible, beautifully. We've created 6+ websites and I don't know how many blogs and graphics together and the process is always a blast. She streamlined our membership site automation so it runs smoothly. I hope she's on my team until the end of time!
– Linda Sivertsen, BookMama.com, New York Times Bestselling author
Working with Julia has completely transformed my business and brand. She took me from a heap of websites cobbled together with duct tape to a fully functioning online platform that hums along like a well-oiled machine.
– Alanna Kaivalya, Ph.D.
Julia was a complete professional. From the moment we worked together she was proactive and so helpful. She knew exactly what I wanted and suggested ways in which I could make my website the most user-friendly without breaking the bank. I love the work she did and would highly recommend her to anyone.
– Dani Havasy
Innerspace Marketing was a pleasure to work with from day one. The whole process of building my brand and site together was organized, efficient, and fun! Julia is kind, patient, and very talented. She makes sure you not only love your site, but are comfortable using it on your own as well.
– Jenna Marin
Working with Innerspace was a breeze. Julia was collaborative, not prescriptive and allows you to co-develop a site that works for you. She knows how to break down complex issues empowering the most uneducated in this area (such as me) to understand and make informed decisions. Thank you for being reliable, understanding and allowing me the creative freedom to design a website I love.
– Matlho Jennifer Kgosi